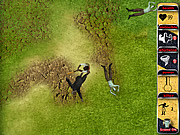 8.08K Played0 Comments0 Likes
Grab a baseball bat and start killing the monsters baseball style. This baseball game has 5 stages, 5 unique enemies, RPG elements, bonus system, normal and survival mods.

12.12K Played0 Comments0 Likes
Play some baseball and defend yourself from the incoming waves of zombies. A fun sporty mix of defense and killing zombies with your baseball bat. Press A or S at the right time to swing your bat and hit the zombie...