42.18K Played2 Comments1 Likes
Play Web Gems the Game on ESPN Arcade!Make an amazing catch and earn a Web Gem. Play Web Gems the Game. Watch the ball as it's hit and anticipate where it will land. Use the "I" key (forward toward the plate), "J"...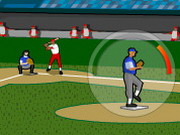 60.17K Played3 Comments1 Likes
Round the bases like the pros in this special base stealing skill challenge! See how many bases you can swipe before you're thrown out! Score as many runs as you can before making 3 outs. The game takes some practice ...