Game Info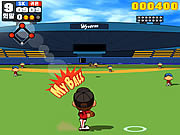 A cute and nice baseball game. Left / Right Arrow Keys - Move. Spacebar - Action.
More Baseball Games

41.35K Played1 Comments1 Likes
Play Web Gems the Game on ESPN Arcade!Make an amazing catch and earn a Web Gem. Play Web Gems the Game. Watch the ball as it's hit and anticipate where it will land. Use the "I" key (forward toward the plate), "J"...