Game Info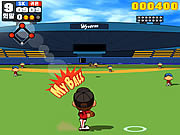 A cute and nice baseball game. Left / Right Arrow Keys - Move. Spacebar - Action.
More Baseball Games

5.90K Played0 Comments1 Likes
Homerun in Berzerk Land is a pretty violent game where you try to hit a geek of an ice peak, sounds simple right? But you also need to control the geek while he is flying trough the air to earn money and level-up to t...