Game Info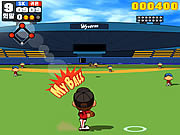 A cute and nice baseball game. Left / Right Arrow Keys - Move. Spacebar - Action.
More Baseball Games

18.92K Played0 Comments0 Likes
A solid baseball game in which you have to fulfill several tasks like hitting a home run to complete the level. Use the mouse to aim and click to swing your bat at the right time.