Game Info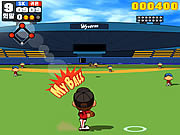 A cute and nice baseball game. Left / Right Arrow Keys - Move. Spacebar - Action.
More Baseball Games

15.02K Played1 Comments0 Likes
Teamwork is everything in this great baseball game! How to play Baseball Team: When batting, click on one of the 9 squares to swing, timing your hit with the pitch. You can steal a base by clicking the helmet on...