Game Info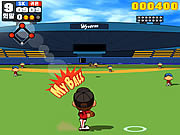 A cute and nice baseball game. Left / Right Arrow Keys - Move. Spacebar - Action.
More Baseball Games

6.39K Played0 Comments0 Likes
This is what you get when you cross baseball with tennis... How to play Power Ball. Press Z with perfect timing to hit the ball past your opponent.