Game Info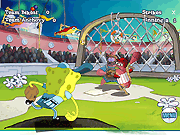 Play a nice game of baseball with Spongebob and his friends.
More Baseball Games

7.62K Played0 Comments0 Likes
Here is another baseball game free to play. Just landing a hit won't cut it. You need to have accuracy and precision in this ball game! How to play Arcade Baseball: Mouse = Aim & Hit Use the mouse to aim, within...