Game Info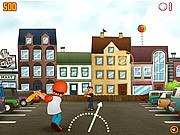 Play this nice brat baseball game,
More Baseball Games

5.52K Played0 Comments0 Likes
Grab your baseball bat and get ready for some arcade fun in this baseball game! A game of base ball where it's the goal to collect stars. Very simple yet entertaining. Use the mouse, click at the right time to swin...