Game Info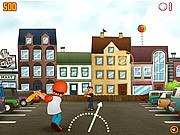 Play this nice brat baseball game,
More Baseball Games

9.26K Played0 Comments0 Likes
You're up for batting in this baseball game, aim and time your hit right to get the most points. Fortunately there's no such thing as being out after 3 strikes in this game, so take your time. Use the mouse to aim ...