Game Info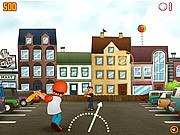 Play this nice brat baseball game,
More Baseball Games

11.43K Played0 Comments0 Likes
This is an nice and basic baseball shots game. The game is quite similar to the previously posted Shatter Baseball. Just hit the ball and try to hit any objects in the level to score points. Hit trees, smash in window...